Mora is the current capital of Sweden and the largest city outside of Iceland. Mora's level of development and large population of 16,550 inhabitants has earned the city the nickname "capital of Scandinavia". The streets are electrically illuminated and most houses are connected to a telephone landline. The symbol of the city is the Dalahäst, a type of traditional pre-pandemic painted horse figurine.
It is the current residence of Siv and Torbjorn Västerström, whose house serves as Headquarters for the mission.
Geography
Edit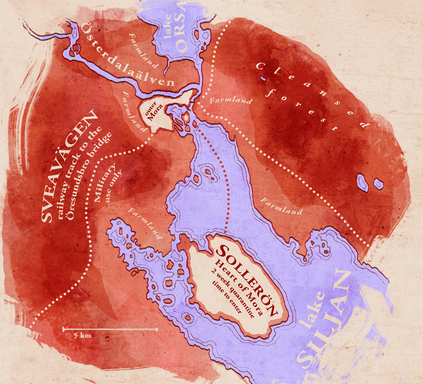 Outer Mora lies on the cape that in pre-pandemic times was the location of the town of Mora. It is a settlement protected by earth ramparts and appears to be quite urban in nature, with paved streets, bakeries, and shops selling souvenirs. It is connected to the eastern banks of the Siljan-Orsa waterways by the old railway bridge. The pre-pandemic main road over the same strait appears to have been demolished. 
Sollerön, "the heart of Mora", is a settlement situated on a 20,5 square kilometers (7.91 square miles) large island of the same name on lake Siljan. People are required to undergo a 2-week quarantine before they can enter this part of Mora. 
Surrounding Mora is a large band of cleansed land used for agriculture and lifestock. The greater Mora area is the largest expanse of cleansed land in the known world (excepting the non-infested lands of Iceland). The cleansed areas are however still not safe. 
A horse-drawn carriage is available near the train terminal to transport passengers within the city. Gas-powered vehicles are primarily reserved for use by the military due to their expensive upkeep and maintenance.
Being the capital city, Mora is connected by railway to several other Swedish settlements. Some of these lines are military-use only due to the danger of the areas they travel through, most notably the "Sveavägen Line" to the Öresundsbro base operated by Denmark. Other lines lead to Björköfjärden (used by the protagonists between chapters one and two), Skutskär (both eastbound), and northbound through Östersund to Skellefteå.
Locations
Edit
The Västerström family residence is located in outer Mora.
The railway connections between Mora-Björköfjärden, Mora-Skutskär and Mora-Svenstavik-Östersund-Skellefteå terminates at Mora Railway Station. It is located on the east side of the river Österdalälven, a little more than half an kilometer from where the old pre-pandemic Mora railway station was located. Travellers to Mora undergo decontamination in the railway station's facilities.
A Military railway depot is used as terminal for trains serving the Sveavägen connection between Mora and Öresund. The Dalahästen departs from this terminal.
The Cleanser corps has its recruitment office in the Swedish Army Recruitment Central in Vasagatan 41 in outer Mora, near the railway station.
The author of SSSS has lived in Mora and thus knows the location well.