Taru Hollola, born Year 49, was a military strategist from Finland before she got bored with her job. She is one of the organizers of this expedition, along with Trond Andersen, and Siv and Torbjörn Västerström.
Personality
Edit
Despite her unwillingness to put herself in the line of fire, Taru has a wealth of knowledge and experience which she draws on for the Expedition.
Taru was originally a strategist for the Finnish military. She was bored with her work and decided to back Siv and Torbjörn Västerström's idea of an exploratory mission deep into the Silent world. She is an acquaintance of Trond Andersen, who she recruited into this mission.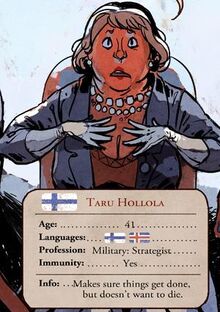 Relations
Edit
Taru is distantly related to the Hotakainen family and has known Tuuri and Onni for an unspecified period of time 
Family Tree
Edit
Ad blocker interference detected!
Wikia is a free-to-use site that makes money from advertising. We have a modified experience for viewers using ad blockers

Wikia is not accessible if you've made further modifications. Remove the custom ad blocker rule(s) and the page will load as expected.